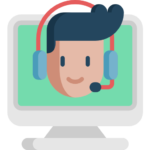 Help Desk Ticket Form
If you are experiencing technical issues with your Hosting or would like to request developer time, please fill out the form below. Once the form has been submitted, one of our on-staff developers will respond promptly. Please note, we may request further information via email.
Please note, you must be enrolled to either our WP Care Plan or Hosting subscription services to be able to receive technical support. Not enrolled, but ready to receive awesome customer support? Enroll in our WP Care Plan or Hosting today!